Socotra Island is a unique place in the World for fishing !
We have high concentration of most sport fish species : the most important sportfish is Gt. Socotra Island is one of the prime spots for GT Fishing. The incredible thing about this island is the average size of the Giant Trevallies, which is around 35 Kilogram, with fish up to 60 Kilogram caught every year. But in October there is a huge migration of Sailfish and Spanish Mackarell, and a migration of pelagic crab, that floating on the water cause a continuos feeding by many kind of trevally such as Golden Trevally, Yellow Spottet Trevally, Bludger Trevally and Black Tip Trevally. Many kind of coral fish are present such as Red Snapper, Green Jobfish, Rusty Jobfish, Coral Trout and different species of grouper and emperor.
The best seasons for fishing Socotra are Autumn and Spring because in Summer and Winter the wind is very strong and the sea very rough. You can fish well and safe from October to November and from March to April.
Actually (2021) we have weekly flight to Socotra Island from Abu Dhabi (each Monday) so can arrange a 8 days tour (or more), including some full days of fishing and at the same time, the discovery of the most beautifull Natural reserves of the Island.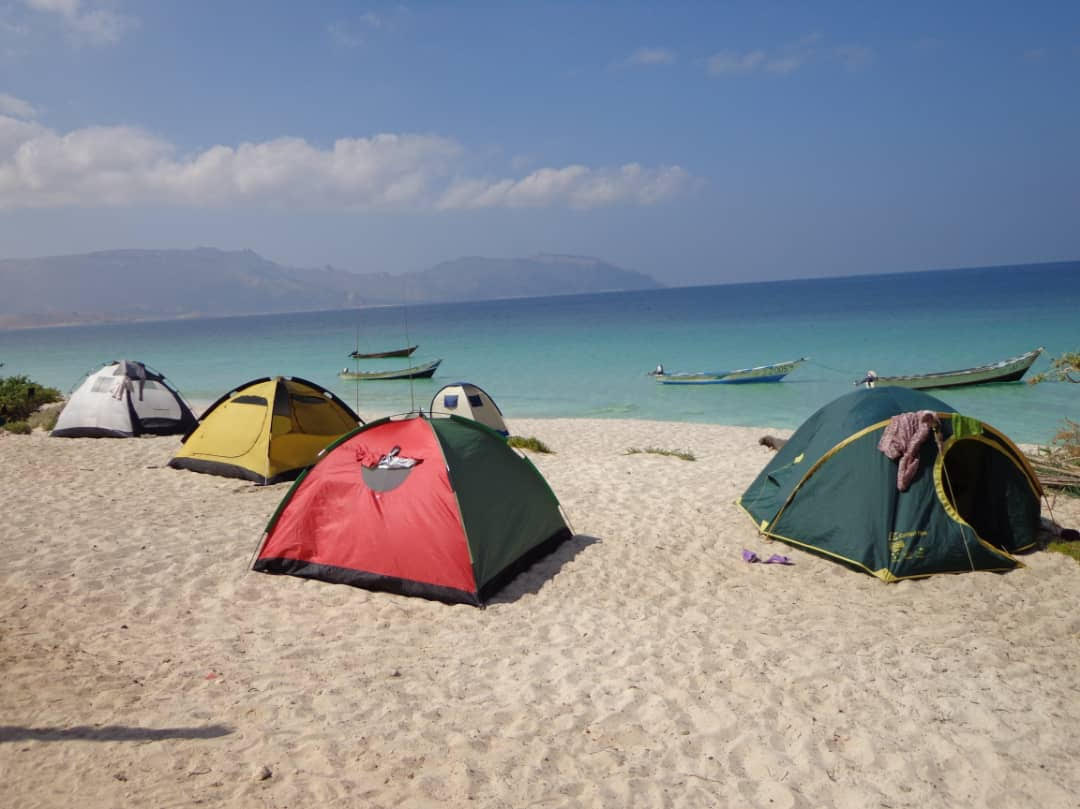 Our program includes :
Ministry fishing fees and agreement with local fishermen/villages
Accommodation based on camping (or Hotel in Hadiboh as per your request)
Transfer to fishing sites
Local fishing boats (7/8m, engine 15/40cv) - 2 persons / boat
4x4 vehicles for the whole trip
English speaking, well trained and experienced local guide
Food, cooking equipment, cook
A sufficient supply of water for the whole trip.
Protected areas fees and all other fees.
Some local guides at specific places
Visa
Flight tickets (Abu Dhabi - Socotra - Abu Dhabi)
Please contact us for more details, we will build for you the perfect fishing tour !
Diving Tours
Its unique diving spots and calm waters make it an ideal scuba diving location. From coral reefs rich with marine life, to old wrecks perfect for exploring, Socotra has it all. The island and its surroundings are excellent for a serene getaway, as the climate is warm and soothing, and the virgin landscape is breathtaking.
Diving in Socotra is almost possible all year long, but it's best from September to October, and from March to May, because of the monsoon season. During that period, the visibility is the highest, even though it generally ranges from 10 to 40 meters, making visiting the sites all the more enjoyable.
Socotra has plenty of interesting diving spots, such as the Sunrise Wreck, a sunken vessel that has created an artificial reef in the very center of the bay at a depth of 25-27 meters. A thrilling dive, because it can often have currents, and old fishing nets entangled in the ship's gear that can offer a danger to the diver, the Sunrise Wreck is a beautiful place. Around February-March the waters are very calm and it's possible to see tens of species of fish schooling around the wreck.
Notable dive sites in Socotra
Dihamri Marine Protected Area that is famous for its variety of fish species and corals, it has five diving spots – the deepest is 50m.
Adho & Rosh Marine Protected Area is known for a reef that stretches about 1km off the coast, a place where night dives are suitable. The depth is 10-15 meters.
Adho : 2 diving sites with dives up to 30 meters.
Eastern Cape Ras Di Erissel is a place where ships have been colliding with rocks for centuries, and some of the wrecks still haven't been explored completely.
One week program suggestion
| | |
| --- | --- |
| Day 1 | Arrival from Abu Dhabi - Lunch in Hadiboh - Delishah Beach - Overnight Hotel |
| Day 2 | Dihamri Diving (2 dives) - Camp |
| Day 3 | Rush Diving (2 dives) - Camp |
| Day 4 | Ersil Diving (2 dives) - Camp |
| Day 5 | Adho diving (2 Dives) - Camp in Arher |
| Day 6 | Hoq cave hike - Homhil - Dixam |
| Day 7 | Dixam Plateau - Ferhamin - Detwah Lagoon Back to Hadiboh - Overnight Hotel |
| Day 8 | Fish market walk - Departure to Abu Dhabi |